Product Detail
Product Tags
Field fence made of high quality carbon steel, is also called cattle fence or grassland fence. Field fences can be divided into fixed knot field fence and hinge joint fencing. With galvanized surface, they have good anti-corrosion effect. They are featured by the high strength, easy installation and long service life and widely used for fencing of various animals such as cattle, horse, sheep and deer. Besides, they also can be used with barbed wire or chicken wire for farm fencing, garden fencing, road fencing, forest fencing and so on.
Place of Origin: Hebei, China
Metal Type:Steel
Frame Finishing:Galvanized
Usage:Garden Fence, Highway Fence, Sport Fence, Farm Fence
Top and bottom wire:2.5mm, 3mm
Roll length:50-200m
Application:used for grassland, protection of ecological projects
Tensile Strength: Line wires:750-1000N/mm2 Cross wires:350-450N/mm2
Class A: Hot dipped galvanized hinge joint field fece(zinc coated:220-260g/m2)
Class B: Hot dipped galvanized hinge joint field fence(zinc coated:60-70g/m2)
Class c: Electro galvanized hinge joint field fence(zinc coated:15-20g/m2
Mesh Wire diameter:1.8mm~2.5mm
Edge wire diameter: 2.0mm~3.2mm
Opening
(warp)15-14-13-11-10-8-6cm; ( 6" 5.5" 5" 4.5" 4" 3" 2.5")
(weft)15-18-20-40-50-60-65cm (6" 7" 8" 15" 20" 24" 25")
Used for borders in fields and grassland for breeding of deer, cattle and other animals.
Corrosion resistance, high tensile strength wire, durable against hit etc.
field fence, grassland fence, cattle fence, stock fence, animal fence, deer fence, Horse Fence etc.
packed by plastic film and wooden pallet.
 

The specification of Hinge Joint Field Fence:

Gross Weight

Top and Bottom Wire Dia.mm

Inner Wire Dia.

Material

Type

Specifications(the incremental vertical hole sizes)

kg

mm

7/150/813/50

102+114+127+140+152+178

19.3

2.5

2

Hot dip galvanized wire,Zinc

8/150/813/50

89(75)+89+102+114+127+140+152

20.8

2.5

2

Coating of 40-50g/m², Zinc coating more than 200g/m²

8/150/902/50

89+102+114+127+140+152+178

21.6

2.5

2

 

8/150/1016/50

102+114+127+140+152+178+203

22.6

2.5

2

 

8/150/1143/50

114+127+140+152+178+203+229

23.6

2.5

2

 

9/150/991/50

89(75)+89+102+114+127+140+152+178

23.9

2.5

2

 

9/150/1245/50

102+114+127+140+152+178+203+229

26

2.5

2

 

10/150/1194/50

89(75)+89+102+114+127+140+152+178+203

27.3

2.5

2

 

10/150/1334/50

89+102+114+127+140+152+178+203+229

28.4

2.5

2

 

11/150/1422/50

89(75)+89+102+114+127+140+152+178+203+229

30.8

2.5

2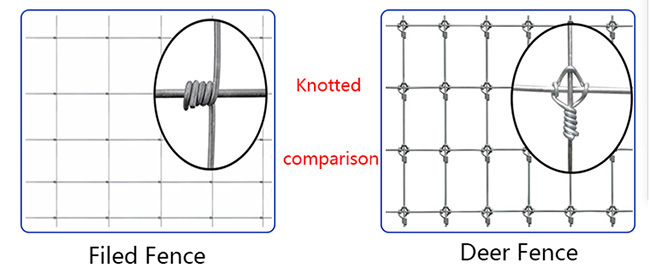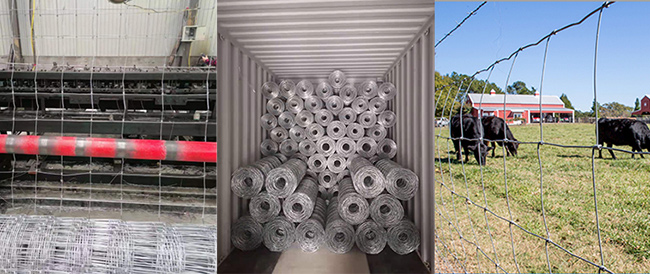 ---
---