Product Detail
Product Tags
This gabion made from welded mesh panels are easy for assembling and is ideal used as decoration walls in the gardens.One whole set including 6 pcs mesh sheet and 12 pcs spirals.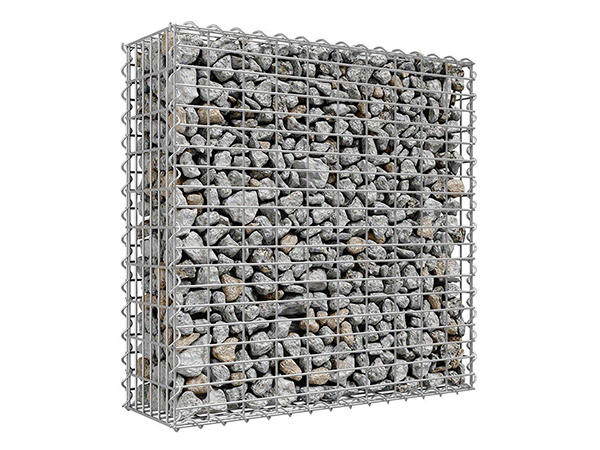 Place of Origin:Hebei, China
Material:galvanized wire, steel iron wire.
Wire Thickness:2.0mm-4.0mm
Mesh Size:5×5cm, 5×10cm, 10×10cm.
Adapt to differential settlement or be used in water courses.Offer higher strength, quicker and simpler to installVarious wire diameters and unit sizes are availableWidely used in retaining wall structures, rock fall and soil protection They can also be made into gabion pot, staircase, table and bench, postbox, forming particular landscapes, such as waterfall, fireplace and decorative wall.
Water-proof paper inside then plastic film outside or shrink, or with pallet.
| | | |
| --- | --- | --- |
| Mesh(cm) | Wire Thickness(mm) | Size(cm) |
| 5×5 | 3.5,4 | 80×20×20 |
| 5×5 | 3.5,4 | 100×20×20 |
| 5×5 | 3.5,4 | 150×20×20 |
| 5×5 | 3.5,4 | 200×20×20 |
| 5×5 | 3.5,4 | 250×20×20 |
| 5×10 | 4 | 30×30×30 |
| 5×10 | 4 | 40×40×40 |
| 5×10 | 4 | 80×40×40 |
| 5×10 | 4 | 100×40×30 |
| 5×10 | 4 | 150×100×30 |
| 5×10 | 4 | 200×50×50 |
| 10×10 | 4 | 60×60×60 |
| 10×10 | 4 | 100×50×30 |
| 10×10 | 4 | 100×80×30 |
| 10×10 | 4 | 100×100×50 |
| 10×10 | 4 | 150×50×50 |
| 10×10 | 4 | 200×250×50 |
---
---